Under Passes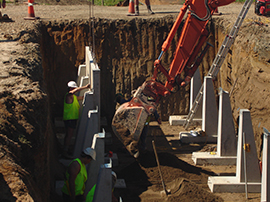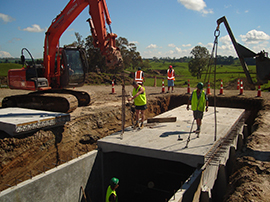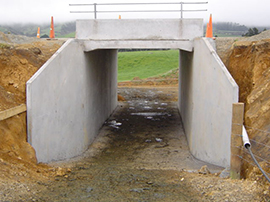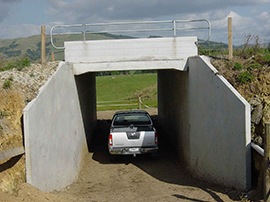 Dairy Tech underpasses are designed to engineer's specifications, are strong and adaptable and allow safe, efficient movement of stock and farm traffic under roads.
Dairy Tech concrete underpasses are noted for their adaptability, strength, permanence and rapid installation, post excavation, using precast concrete slabs.
General Construction Procedure:
Constructed of precast walls and roof. The only concrete poured on site is the floor, on Dairy Tech steel mesh, and along the roof edge to strengthen and seal the roof/wall join.
After site excavation, Dairy Tech designed and manufactured concrete buttresses (to support walls) are craned in place. Dairy Tech's pre-cast, 175mm thick wall panels are welded in place.
Walls have two layers of Dairy Tech mesh and are constructed of 40 MPa concrete.
The roof is also constructed of 40 MPa concrete, 230mm thick with edges shaped to fit to walls.
The underpass is adaptable in length, slope and height. A recent underpass constructed was 3.2 metres high allowing for a large farm equipment.
The underpass structure includes Dairy Tech manufactured pre-cast wing-walls to hold the entry and exit banks. Above the underpass are low precast walls with galvanized pipe safety rails for above-ground traffic.